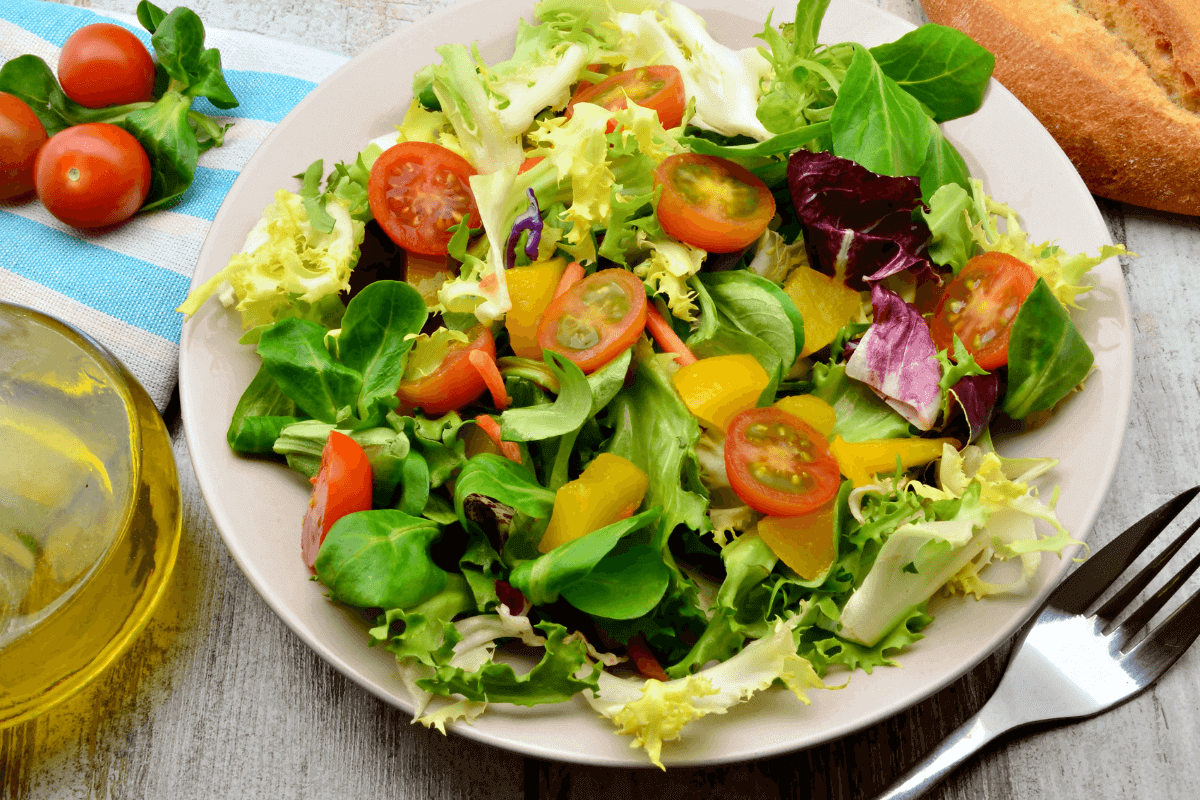 How to Build a Better Salad
Ordering a salad may sound like a surefire way to cut down on extra calories, carbs, and sugars you get from a meal out. Unfortunately, the benefits of those leafy greens are often drowned in a pool of creamy dressings, fried bacon bits, and gobs of cheese. In fact, when you put the nutrition facts head-to-head, it can be hard to tell the difference between a salad and a cheeseburger. The good news is, with a little planning, you can learn to make the right choices.
1. Load Up: Leafy Greens
Just like building a house, you want your salad to have a strong foundation. You can up the nutritional ante by opting for dark greens, such as spinach or kale, in place of traditional lettuce. If you're looking for a salad with a bit of a bite, arugula packs a zippy punch with a high dose of Vitamins A, D, and K. If sweet is more your style, try warm, wilted spinach for a hearty shot of magnesium and iron. Can't make up your mind? Go for a mix. Not only will you score a blend of bold vs. mellow flavors, you'll also reap the benefits from a variety of nutrients.
2. Load Up: Fresh Veggies
This is where the fun really begins. Pretend you're building a rainbow–the more color you include, the more diverse nutritional benefits you'll get. For a hearty crunch with a touch of sweetness, toss in some chopped bell pepper, onion, or pea pods. For a dose of Vitamin A and cancer-fighting antioxidants, you can't go wrong with shredded carrots and radishes. And finally, you can never have too much green. Broccoli florets, cucumber, and even zucchini all make fresh and crisp add-ins.
3. Be Mindful: Protein
Veggies alone can be filling enough–just think of all that fiber you're getting–but for a salad with a little more staying power, it doesn't hurt to mix in some protein. Try opting for lean meats here. Smoked turkey, chicken, or ham will give you a warm, savory flavor without the extra fat. Or, shake things up by choosing beans instead. Kidney and garbanzo beans both make for great protein-packed salad toppers that are light on carbs. Black beans have even been deemed a superfood. To avoid nutritional pitfalls, it's better to steer clear of refried beans, taco meat, and anything labeled "fried" or "crispy."
4. Be Mindful: Vinegar-Based Dressings
In a perfect world, we'd eat bowls of raw vegetables all on their own, but sometimes, your salad needs a little extra help. Light vinaigrettes, balsamic vinegars, and Italian-style dressings can give your bowl some extra zing for as little as 15 extra calories. Make sure you pay attention to serving sizes here–it's better to give your salad a light shower of dressing rather than a bath. The healthiest way to dress things up? Get your balsamic on the side and dip your fork in it before picking up the veggies.
5. Use Sparingly: Cheese
When used in moderation, cheeses can add a cool, creamy element to your salad with bone-strengthening calcium to boot. However, cheeses are also high in calories and saturated fat, and too much can send your salad into not-so-nutritious territory. When it comes to adding dairy, try a small sprinkling. At only 70 calories per ounce (or a small handful), crumbled feta cheese will add a sharp, salty flavor to your greens. If you're feeling adventurous, try topping your salad with goat cheese. With its rich, tangy flavor, just a little pinch is all you need.
6. Use Sparingly: All The Extras
You've done well so far, but this is the area where things can get tricky and tempting. It can be easy to add a pinch of dried fruit here and some sugar-coated almonds there, along with a handful of sesame sticks and a few croutons at the end. Unfortunately, these little bits add up quickly and can tack on unwanted calories, carbs, and sugar onto your otherwise healthy meal. When navigating the extra toppings, try choosing a small portion of just one. If you're looking for something sweet, a small sprinkling of raisins or craisins will do the trick. If crunch is what you're after, try opting for protein-packed nuts instead of croutons, which are mostly empty carbs.
7. Use Sparingly: Creamy Dressings
Yes, we're talking about the ranch, Caesar, and Thousand Island kinds. With 14 grams of fat in just two tablespoons of ranch dressing (and we know most people pour on more than the recommended serving size), it's better to skip this area entirely. If you really have a hankering for something creamy, try mixing 1/2 or 1/4 of the recommended serving size of dressing with a dash of lemon juice. This extra citrusy flavor will make a little bit of dressing go a long way.
---