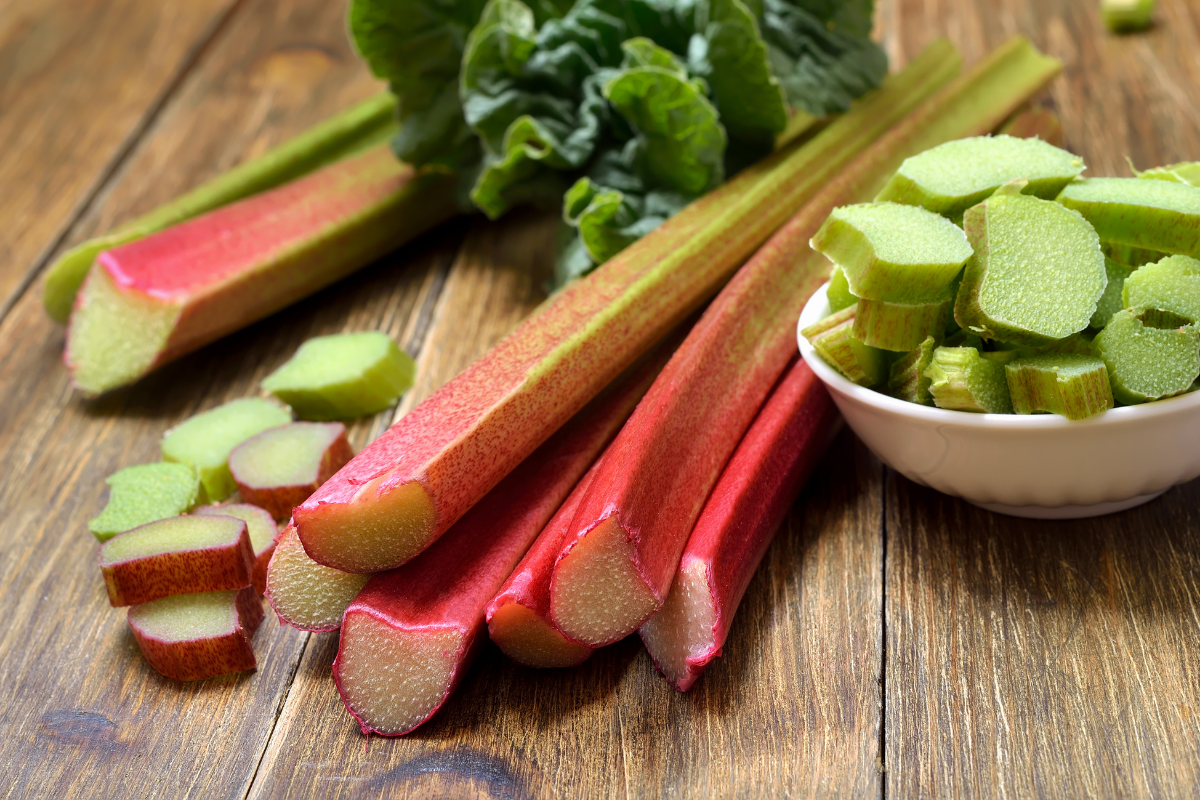 Five Must-Try Fruits and Veggies
Are apples and oranges getting repetitive? Too many iceberg lettuce salads? Embrace the sunny season with these lesser-known fruits and veggies. You find the best value and flavor during the springtime. Here are some fun new fruits and veggies to try out!
Harvest Kohlrabi
Harvest Kohlrabi grows in the early spring in temperate regions. This bulb-shaped vegetable combines the crunchiness of carrots with the sharp, bitter taste found in beets and radishes. Kohlrabi is one of the lowest-calorie vegetables, and one serving–about 1 cup, chopped–contains more than 100 percent of the recommended daily amount of Vitamin C. Snack on a few raw slices with a dash of salt. 
Featured recipes: Roasted Kohlrabi (Allrecipes) Curried Red Lentil Kohlrabi and Couscous Salad (Epicurious) Kohlrabi and Potato Soup (The Washington Post)
Rhubarb 
These bright red stalks are often the first sign of spring in some areas. This fruit's crisp, tartness makes it the perfect ingredient in low-fat and low-sugar cakes and tarts. Pair it with lean meats for an especially pucker-worthy flavor. 
Featured recipes: Sugar-Free Rhubarb Coffee Cake (Rhubarb-Central) Dijon-Rubbed Pork with Rhubarb Sauce (Taste of Home) Sugar-Free Rhubarb Jam (Simple Bite) 
Swiss Chard
Like other greens, swiss chard can get bitter when the weather turns hot, making it perfect for harvesting in the spring . With the texture of collard greens and the bitterness of kale, Swiss chard is known for being versatile in a variety of recipes. Sub for lettuce and create a powerhouse salad, bursting with Vitamins A, C, and K, as well as magnesium and iron.
Featured recipes: Sauteed Swiss Chard with Parmesan Cheese (Allrecipes) Swiss Chard and Herb Summer Salad (Daily Garnish) Roasted Tomato, Chickpea and Swiss Chard Soup (Chow) 
Apricots
These soft and juicy morsels are the first members of the stone fruit family (think peaches and nectarines) to ripen. Just like carrots, this bright orange fruit is full of beta-carotene, which helps create healthy eye and skin cells. Apricots are small and easily portable, which means they can make the ideal sweet afternoon pick-me-up. Featured recipes: Apricot-Glazed Chicken (Allrecipes) Arugula, Fennel and Apricot Salad (Bon Appetit) Sugar-Free Apricot Jam (Super Healthy Kids) 
Kumquats
Because their season begins at the end of winter, you can find these tiny, snack-ready fruits ripe for the picking in the early spring. Kumquats are high in immune-boosting Vitamin C and cancer-fighting nutrients known as free radicals. Just like clementines or tangerines, this fruit has the ideal flavor balance of sweet and sour. Not to mention, they're fun to eat!
Featured recipes: Sugar-free Kumquat Marmalade (PBS) Seared Scallops with Kumquat-Tarragon Vinaigrette (Epicurious) Beet, Blood Orange, Kumquat and Quinoa Salad (My Recipes) 
If you're looking for a new fruit or vegetable to try, consider one of the five delicious options above. Packed with all kinds of nutrients, you can't go wrong!
Disclaimer Statement: This is for educational purposes only and not intended as medical advice. For individual medical advice, contact your healthcare practitioner.
---