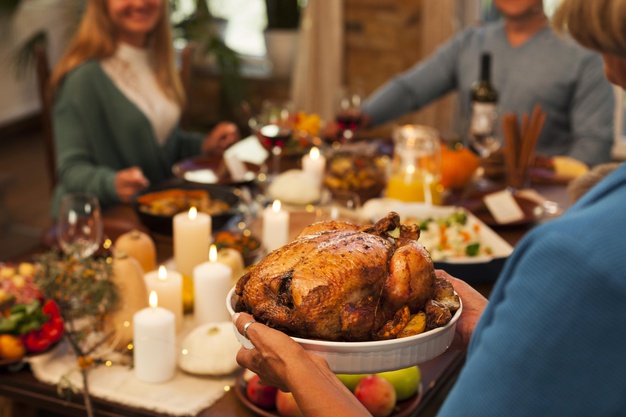 Eating Healthy After The Holidays
Eating healthy after the holidays is always a difficult challenge if you've gotten into the habit of eating not-so-healthy-foods. Did you overdo it during your holiday dinner? You're not alone! According to the Calorie Control Council, the average American chows down on more than 4,500 calories on Thanksgiving dinner and more than 7,000 calories during Christmas! Instead of throwing in the towel and giving up on a healthy holiday routine, here are a few things you can do to get back on track. 
Don't beat yourself up.
While binge-eating is never a healthy behavior, indulging once or twice a year on some of your favorite holiday flavors isn't the worst thing you could do to your body. Instead of feeling sad or guilty, resolve to eat better today. 
Be honest.
Considering most holiday dishes aren't the healthiest, your blood sugars may not be where you want them at, thanks to all those leftovers. However, it's still important to record these readings in your blood sugar log. This will not only hold you accountable, but it will also help you when it comes to identifying trends and patterns in your sugar data. These trends and patterns are included in your Iowa Diabetes Portal membership (free to all Iowans)!
Get moving.
Make use of those extra calories and start moving. Need a place to get started? Sneak away and go for a walk. If it's cold or snowy, be sure to bundle up! Just one mile burns around 100 calories. Cleaning up around the house is also a great way to burn off some calories. You can burn up to 119 calories for every half hour of cleaning. Maintaining a constant level of activity every day can help control your blood sugar too!
Go easy on the leftovers.
Your taste buds may be craving that last slice of pecan pie, but your body is saying, "Nooooo way." To get back into healthy eating habits after the holidays, slowly transition back to what you were eating before the holidays. When it comes to eating what's left of your holiday feast, stick to some of the lighter options. A piece of white meat turkey has 35 grams of protein and less than 190 calories. Turkey sandwiches are always a favorite! Add some lettuce and tomato for extra nutrients. Scout out some veggies to put on the side–plain sweet potatoes and green beans will do the trick–for a well-balanced meal.
Summary
You are not alone in binge-eating over the holidays, but it's important to get back into routine! Be honest when logging your sugars, try to incorporate a little exercise afterwards, and when it comes to left overs, choose the turkey and veggies over the pie. These simple tips will help you get back on track in no time!
Disclaimer Statement: This is for educational purposes only and not intended as medical advice. For individual medical advice, contact your healthcare practitioner.
---