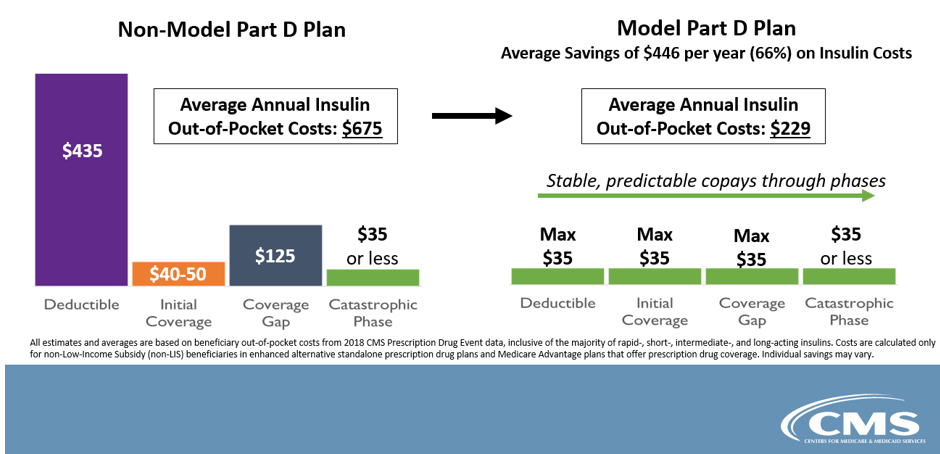 Decreasing Insulin Prices for Medicare
You could be saving a lot on insulin very soon! Here's how!
In May 2020, the Centers for Medicare & Medicaid Services (CMS) announced that more than 1,750 Medicare Part D drug plans will offer lower insulin costs through the Part D Senior Savings Model for the 2021 plan year.  This means that Medicare beneficiaries with these plans will have access to most insulins for at most $35  for a one month supply.  According to the announcement, this should even happen during the coverage gap.
This new insulin model helps decrease insulin costs while preventing higher premiums. For the first time, Part D plans are able to offer fixed, predictable copays. This is in contrast to paying up to 25 percent of the drug's cost during the coverage gap (aka Donut Hole).  CMS estimates these plans will save participating patients $446 a year.
This news has the potential to affect millions of people with diabetes. It will be more important than ever to be aware during open enrollment to ensure your plan will offer lower insulin prices through the Part D Senior Savings Model.
Follow this link for more information on ways to save on insulin.
Patients must enroll in a participating plan to benefit from the Part D Senior Savings Model. Reach out to CMS directly (1-800-633-4227) to confirm if your plan is enrolled. Follow this link to search for a Part D plan most affordable based on your treatment regimen.
Summary

Insulin could become a lot more affordable for you in the near future. The Part D Senior Savings Model is offering lower insulin costs for the 2021 year and could save you up to $446!
Disclaimer Statement: This is for educational purposes only and not intended as medical advice. For individual medical advice, contact your healthcare practitioner.
---