Swap Your Pantry Essentials for *These* Healthy (& Affordable!) Versions
A healthy outside starts from a healthy inside.
A lot of people believe that healthy eating is expensive. This is actually false, as long as you know how to shop smart.
Read on to learn more about this myth and how to make the best food swaps for some common food items.
🧐 How To Evaluate Nutrition Labels
Nutrition labels can be difficult to read if you don't know what you are looking for. Some foods will be advertised as healthy but a lot of times, the nutrition label will not agree with this claim. These foods that are marketed as 'healthy' will often be more expensive as well. This is why people believe that eating healthy is not affordable. Looking at nutrition labels is the best way to determine if a food product is as healthy as it claims to be. You should look for multiple things on a nutrition label when picking food items, not just calories or carbohydrates.
👀 When reading a nutrition label the most important things to look for are:
Serving size
Calories
Total Carbohydrates
Sodium: Limit to less than 2300 mg per day
Saturated Fats: limit to less than 10% of your total calories per day
Pro Tip: The serving size should be the first thing that is looked at. This lets you know how much is recommended to eat of this particular item. If something is seemingly low in calories or carbs, but the serving size is smaller than what you will want to eat, it may not be a great choice.
Check this article out for more information on how to read a food label.
🍞 Healthy Food Swaps for Staple Items
There are quite a few staple pantry items that are quite easy to switch up for products that are healthier, and just as delicious. Here are are few of our favorites:
📌 Ketchup: The regular version is full of sugar and high fructose corn syrup. Try a simple ketchup option with no added sugars.
📌 Dressings: Choose a light version of your favorite dressings and sauces, like ranch, to limit the calories and amount of saturated fat. Not a fan of how these taste? Try yogurt-based versions. This will also help decrease the calories and saturated fats.
📌 Dairy: Choose skim milk or less-sugar almond milk instead of whole milk, and greek yogurt instead of traditional yogurt. Most of these swaps will taste the same, or close to the same, and are a healthier option because there are fewer calories and saturated fats.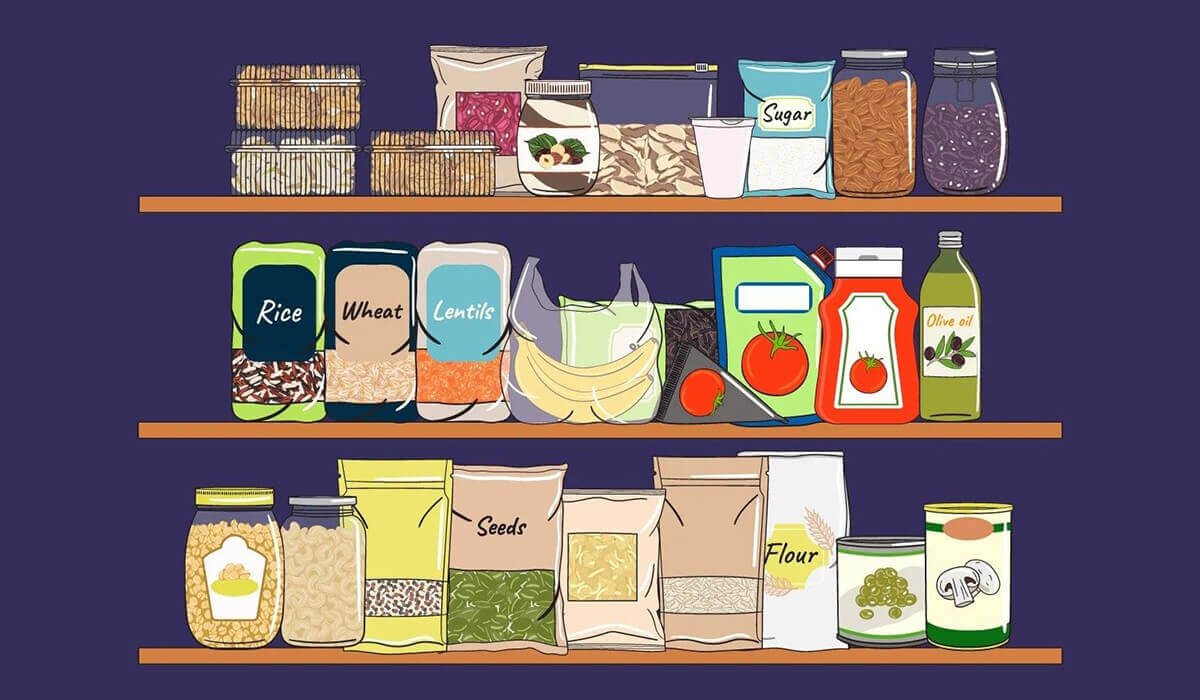 📌 Bread: Avoid the white bread, instead grab a wholegrain option. Wholegrain will have fiber, vitamins, and minerals. This will slow down the absorption of carbohydrates, make you feel fuller sooner, and prevent cholesterol absorption from your foods.
📌 Pastas: When choosing pasta, look for wholewheat noodles, chickpea or lentil pasta, or even zucchini noodles and spaghetti squash. There is more protein in the chickpea and lentil options compared to regular pasta and way fewer calories in the zucchini and squash ones. You can even mix regular pasta with some of these other options to limit the number of carbohydrates and calories you are eating.

Want to discover more healthy food items? Watch our
Facebook Video
that covers the A-to-Z of healthy food swaps for your pantry basics.
Summary Finding healthy foods to eat does not have to be difficult or expensive. Knowing what to look for on a nutrition label is the first step, and once you have that down, it will be easy to find healthy options to fill your pantry with. There are lots of pantry food-swaps where you won't even be able to taste the difference.

Disclaimer: Any information provided is not intended as medical advice. Iowa Diabetes is not responsible for any information from third parties.
---