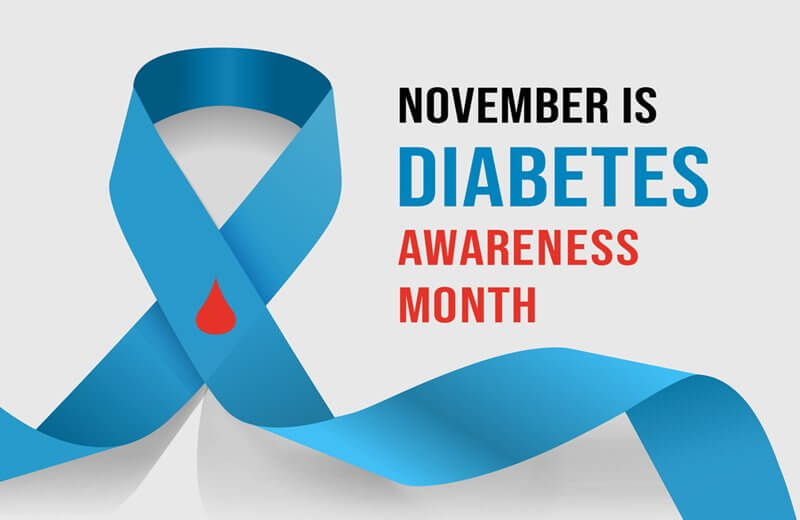 Diabetes Awareness Month
November is National Diabetes Month, a time where people across the globe team up to bring awareness to diabetes. The CDC defines diabetes as a chronic health condition that affects how your body turns food into energy. If you have diabetes, your body either doesn't make enough insulin or can't use the insulin it makes as well as it should. When this happens, too much blood sugar stays in your bloodstream. Over time, this can cause serious health problems, such as heart disease, vision loss, and kidney disease.
While this all sounds scary, there are healthy lifestyle changes that can help prevent type 2 diabetes and even reverse prediabetes.
Lifestyle Changes
Take small steps

You don't have to change everyone all at once. It is okay to start small and set small goals for yourself.

Healthy Eating

If you don't know where to start, working with a registered dietitian nutritionist is a great way to customize a plan that works for you. The American Diabetes Association (ADA) has a great nutrition report that offers many recommendations.

Weight Loss

By losing just a few pounds (5% of your body weight) and incorporating healthy eating and exercise into your daily routine, you'll start to feel better and reduce your risk of developing additional related problems.

Fitness

It can be challenging to motivate yourself to start exercising when you have been inactive for a long time. Starting slow is a great and safe way to get back into exercising. The ADA has many tips and recommendations to get you started on your fitness journey.
Virtual Events
Below is a list of some exciting virtual events that are occurring throughout the month of November. Some of these events only have a limited number of spots, so make sure to sign up early if you are interested!
Facebook Live Events
For those of you who prefer social media, there are plenty of events that will be live on Facebook throughout the month. The best part is that you can watch these events even after they have gone live.
Summary Navigating the world of diabetes can be complicated, but you don't have to do it alone. Making a few lifestyle changes can drastically change the course of your diabetes and can reduce your risk for future complications. All of these events are great ways for you to connect with other people with diabetes and allow you to be in a circle of people that understand what you are going through. Checkout the variety of events going on this month to improve your understanding of diabetes, learn some new tips and tricks, and even have some fun in the process.

Disclaimer: Any information provided is not intended as medical advice. Iowa Diabetes is not responsible for any information from third parties.
---